Festival location
The Radovljica Chocolate Festival takes place in the heart of the old town centre of Radovljica. The town has an exit from the A2 motorway, and lies just a few kilometres from world famous Bled. The festival is spread over several areas in the town: Vurnik Square, Linhart Square, the Radovljica Manor, and the town park. It is possible to purchase tasting coupons and taste chocolate treats at all of the locations.
The festival venue is just 20 metres from Radovljica's main bus station and 100 metres from the railway station.
What awaits you and where at the Radovljica Chocolate Festival:
Vurnikov trg: House of Experiments, cookery workshops for children, cookery shows, competition for the 'Best Festival Chocolate'
Promenade: zip wire descent with Kranj cavers, street art
Car park in front of Grajski dvor: prize bingo, ruby chocolate
Park: chocolatiers from Slovenia, Italy and Croatia, Taste Radol'ca street food, archery corner, circus workshops and shows, main concert stage, family adventures through Radovljica
Linhart trg: chocolatiers and producers of organic chocolate
Radovljica Manor: Slovenian chocolatiers, chocolate wine
Square in front of St. Peter's church: chocolate desserts, workshops with the Museum of Apiculture, craft beer corner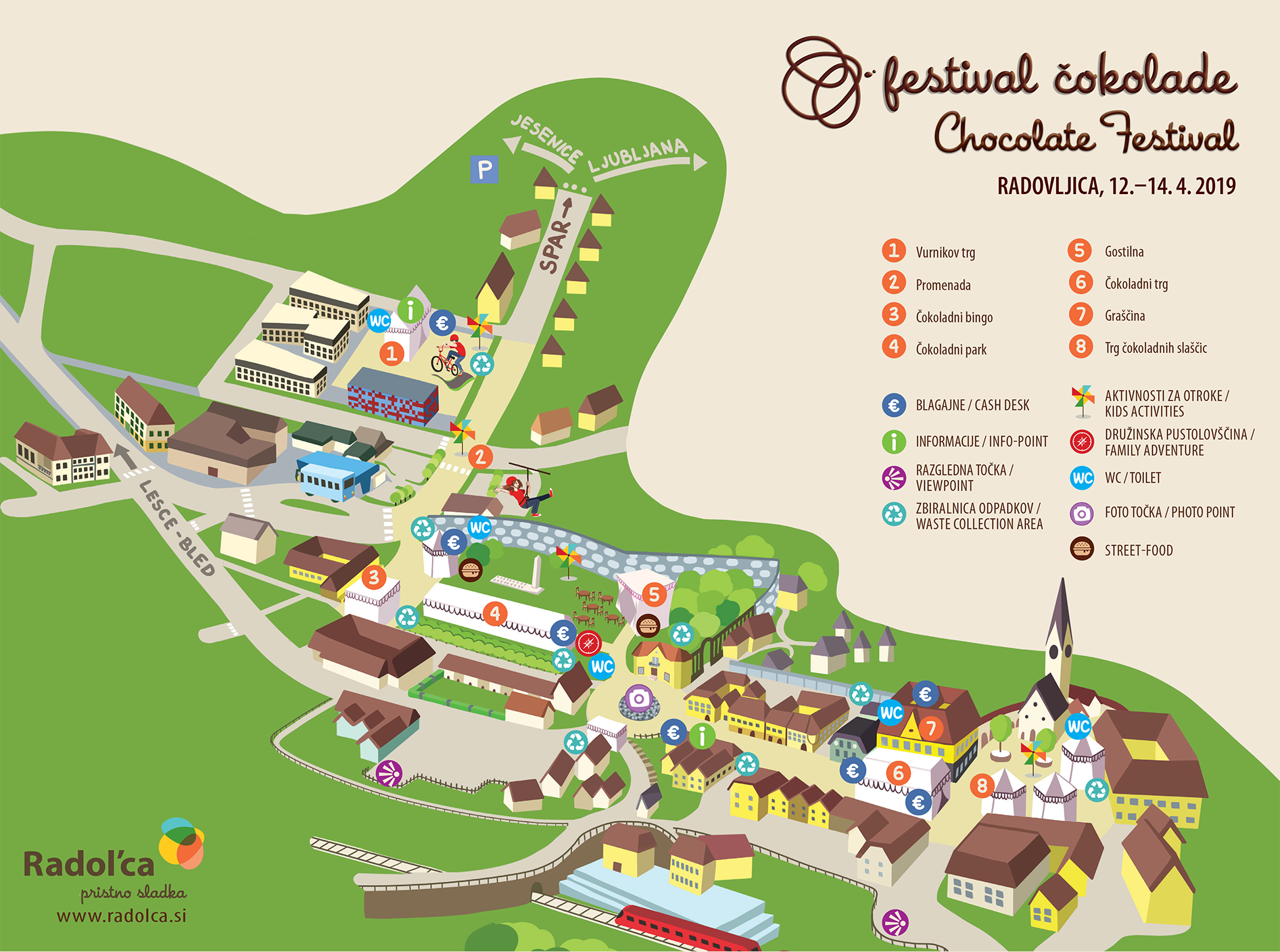 How to get to the festival?
SHUTTLE BUSES FROM BLED
On Saturday and Sunday special shuttle buses will run from Bled to the Chocolate Festival in Radovljica. Every half hour from 10am to 5pm shuttle buses will pick up those wishing to visit the festival at the Panorama, Rikli Balance Hotel and Hotel Krim bus stations, as well as at Bled bus station and the Union bus station. The return journey from Radovljica to Bled will be every half hour from 10.30am to 5.30pm from the main Radovljica bus station. The price of a single ticket is €1.00.
By train
The festival venue is just 100 metres from Radovljica's railway station. There are direct trains to Radovljica from Ljubljana.
TIMETABLE
BY BUS
Buses will take you right to the heart of the action. Radovljica's main bus station is just 20 metres from the festival venue. There are frequent buses serving Radovljica and onwards to Bled, Kranj, Ljubljana, Kranjska Gora and Bohinj. Buses run from Ljubljana to Radovljica and vice versa every hour and on Fridays every half-hour. The timetable can be found HERE.
BUSES FROM LJUBLJANA
SEARCH FOR A BUS ROUTE
BY CAR
You can also drive to the festival. Parking will be available close to the festival venue, and will be controlled by marshals. Tourism Radol'ca kindly requests visitors to obey the instructions of the marshals. Those car parks that are located further from the festival venue will offer organised transport to/from the heart of the action.
Parking spaces for disabled: at the court building and in Vurnik Square.
Parking spaces for journalists: the underground garage at Vurnik Square. Journalists are requested to apply in advanced for a parking permit.